Cole Campus facing west toward downtown along Market Street. (Courtesy of Indianapolis City)
The company, which is leading an ambitious redevelopment plan for the former Angie's List campus (now Elevator Hill) just east of downtown, is building a new building to take over the former No. 2 Jail and Arrest Processing Center right next door. Chosen by the city.
The Metropolitan Development Authority announced Wednesday that it has selected to overhaul a $120 million property proposed by 1820 Ventures LLC. The project includes apartments, an educational facility, an event center, retail space and a co-working office area.
The project will complement the 1820 and city officials dubbed the Cole Motor Redevelopment in honor of former tenant Cole Motor Car Company. $275 million investment Already planned for the Elevator Hill corridor.
This is the second proposal for the reuse of city-owned property, following the city's selection of Gershman Partners and Citimark. Development of City Market East in July.the city is going to offroad About 19 acres of land in the next few years.
Jeremy Stephenson, Managing Partner at 1820 Ventures, said: "What we are doing is thinking more boldly, especially about the issue of perception as a prison. That element means that we need to push further. and change people's minds about what is possible."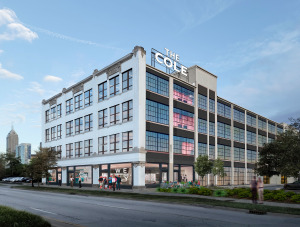 The project was co-designed by Indianapolis firms DKGR Architects and Meticulous Design and Architecture, the latter a tenant of Elevator Hill.
FA Wilhelm Co. Inc., Taylor Bros. Construction Co., and American Structurepoint were responsible for construction.
Located between a series of elevated CSX railroad tracks and Interstate 65/70, the 4.3-acre site has a total of 280,000 square feet of building space. Prison II is approximately 180,000 square feet, while APC is 100,000 square feet.
The Jail II building is expected to have 110 to 140 apartments (a mix of market and affordable 1, 2 and 3 bedroom units) and amenities such as a rooftop deck, dog park and fitness center. will be
On the ground floor of that building, 15,000 square feet of space will be reserved for an early childhood center that can accommodate up to 300 children, with an additional 10,000 square feet of flexible space for a new Career Pathway Center. Ball State University. Indianapolis Public Schools is also considering involvement in the educational component of the Cole Project.
Details of these partnerships have yet to be finalized, but Stephenson said the educational component is important to the neighborhood and downtown's growth as a whole.The Jail II structure includes multiple retail outlets along Washington and Market Streets, and local tenants.
The Arrestee Processing Center grounds will house Broad Ripple's The Vogue operator's 60,000-square-foot new concert and events venue, housed on the third and fourth floors and capable of accommodating 500 to 3,000 people. There are 40 parking spaces and retail spaces in the building on the first floor, and approximately 30,000 square feet of co-working space on the second floor.
Both buildings will see façade improvements, including the return of historically accurate large windows, and new signage to advertise key tenants and apartment spaces. Some public art is also displayed throughout the campus.
Stevenson said parking could be built adjacent to the project as demand increases. When built, it will be shared by Elevator Hill and the Cole Project.A 100-car flat parking lot is also available to patrons.
As part of the Elevator Hill and Cole projects, Market Street is expected to become a pedestrian-focused, multimodal street, while Washington Street will eventually have a new Bus Rapid Transit Line, but will continue to The emphasis is on vehicle traffic.
As part of the development, 1820 Ventures will formally offer to purchase both buildings. Jail II at 730 E. Washington Street is $5.07 million and Arrestee Processing Center at 752 Emarket Street is $2.28 million.
DMD director Scarlett Andrews told IBJ that the details of the deal will need to be reviewed, but the city is not expected to own the property as the project progresses.
"It was important to think that this was a completely private development and that it would be privately funded in the future," she said. I expect it to be privately owned."
These facilities have been managed by the city since they were converted into prison facilities in 1996. The building was originally built between 1911 and he 1922 and was home to the Cole Motor Car Co. before its dissolution in 1925. Over the past century or so, the property has been used by various tenants, namely Service Supply Co. was a prominent supplier of industrial fasteners in the mid-20th century United States.
Andrews added that the project is intended to serve as the gateway to Indianapolis' eastern side, bridging a downtown that has long been divided by interstate and railroad tracks.
The 1820 Ventures project was selected over submissions from Third Street Ventures and TWG Development LLC. Each of these suggested similar uses such as apartments, office spaces, retail stores, and parking components.
TWG's $63.6 million project called for a total of about 200 apartment units, three more floors to be built on top of the existing APC building, and over 300 parking spaces. A $77 million project, Third Street's proposal required approximately 150 units of Jail II and his entire APC to be configured into office space and his first-floor parking lot. It also included approximately 30,000 square feet of artist studios and commercial space between buildings, much of which would have been along Market Street.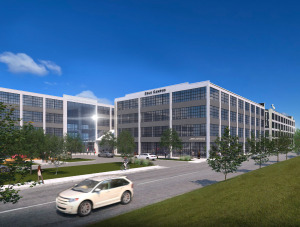 According to city officials, 1820 Ventures is the only company deeply involved in neighborhood organizations such as the Holy Cross Neighborhood Association and the Coal Noble Commercial Arts District, which Stevenson said was important to the group's site plans. Felt.
"What do you think [this area] It's always been that way, but today, we're poised to make big changes…in a fairly short period of time," he said. It's about getting what you need because they have different needs in terms of usage.
Scotty Z. Wilson, President of the Holy Cross Neighborhood Association, said: One site, one block at a time, he hopes this brings us closer to reimagining the possibilities of Indianapolis' urban community. "
Cole-Noble District President Jill White was a member of the selection committee that ultimately selected 1820 Ventures' project.She said neither of the other developers reached out to her to discuss their project.
"Jeremy… "They came to us before the project was submitted to the city and they asked for opinions," White said. came back to tell us what they were able to get from what we said.I think their plan suits us very well."
Englewood Community Development Corp. was also in the group, and Stevenson personally met Joe Cole, the grandson of the Cole Motor Co. founder, to learn about the building's history and importance to Indianapolis.
The decision was "partly practical, but a little emotional," he said.
Cole still owns the building on College Avenue, where Sun King Brewing is located, but sold the industrial building to Service Supply in the 1960s.
The project is expected to be mostly privately funded, with some funding coming from members of Fred Abel LLC, a group of 20 local investors who own the Elevator Hill campus. The involvement of the group's members has yet to be confirmed, but Stevenson said it will be on an individual basis. IBJ Media co-owners Nate Feltman, Mickey Maurer and Bob Schloss are all members of the Fred Abel group. According to Stephenson, outside investors can also be used for development.
1820 Ventures is expected to work with the city to determine potential incentives for the project in the coming months. This could come in the form of developer-backed tax-raising loan bonds, similar to what other developments have received in recent years. The project may also qualify for federal historic exemptions, state redevelopment exemptions, and new markets tax exemptions.
Stevenson said his company will continue to guide the vision of the region, while continuing to engage with the community and other groups that want to have a say in its direction. .
"Would you like to bring someone into the room to help generate ideas?" he said. "We're not the only ones to have ideas. In fact, most of our ideas come from other people who are far better than ourselves. So how do we bring that to the table?" ?
A preliminary timeline for the project calls for full construction of the APC and Prison II buildings to begin in early 2023.