In May, we'll go deep on money and finance for a special theme month, by talking to leaders about where the mortgage market is heading and how technology and business strategies are evolving to suit the needs of buyers now. A prestigious new set of awards, called Best of Finance, debuts this month too, celebrating the leaders in this space. And subscribe to Mortgage Brief for weekly updates all year long.
Real estate franchise giant RE/MAX's Motto Mortgage subsidiary has been named to Entrepreneur magazine's 2023 Franchise 500 list for the fourth year in a row, putting some wind in the sails of the company's long-term goal of having 1,000 offices up and running nationwide.
For now, 1,000 Motto Mortgage offices remains a distant goal. Although Motto Mortgage's open office count grew 21 percent from a year ago during the first quarter, to 232 as of March 31, quarter-over-quarter growth was essentially flat.
But the 61 new offices opened in 2022 was a company record, Motto Franchising LLC CEO Ward Morrison said in a statement.
"I am very proud to see how far the Motto Mortgage brand has come since launching in 2016," Morrison said of being singled out by Entrepreneur once again. Last year was "a record year for the brand with more new offices opened across the U.S. than ever before and our franchisees closing nearly $2.8 billion in loan volume to help over 9,700 families fulfill their dream of home ownership."
Entrepreneur ranked Motto Mortgage 403rd on its Franchise 500 list, down from 306th last year. Last year Franchise Business Review named Motto to a list of top "recession-proof" franchise opportunities, and the data collected by that publication prompted Black Enterprise to highlight the company as a top franchise opportunity for Black entrepreneurs.
Source: RE/MAX investor presentation
Motto Mortgage doesn't make loans but is a technology, compliance, training and marketing solution for mortgage brokers who work with multiple lenders. The company's "mortgage brokerage-in-a-box" is available to RE/MAX affiliates or any real estate broker or entrepreneur. RE/MAX also provides third-party loan processing services to mortgage brokers through another subsidiary, wemlo.
It typically takes 12 to 14 months for new Motto franchisees to get up and running. After attending training and getting licensed, franchisees typically pay $4,500 a month in royalties.
Motto Mortgage open offices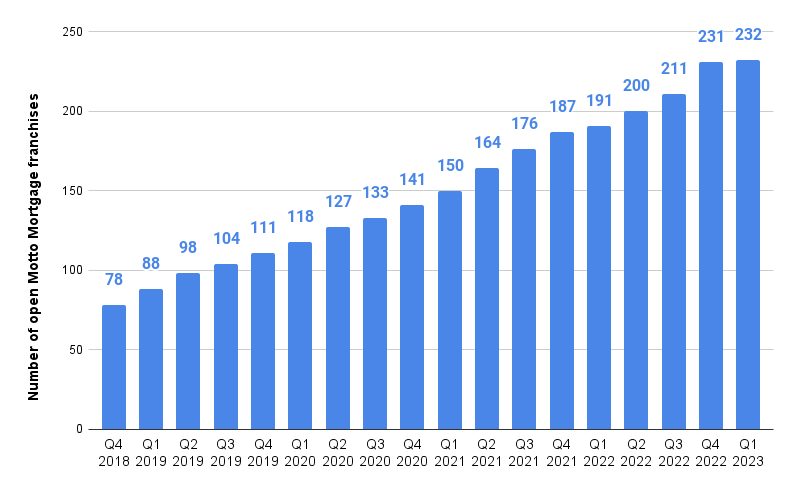 Source: RE/MAX regulatory filings
While Motto opened 61 offices last year, net growth in open offices totaled 44 after subtracting offices that closed or left the franchise. During the first quarter (Q1) of 2023, Motto sold a total of 10 franchises, down from 17 during the same period a year ago.
But that pace was in line with years past when Motto ended with 60 to 70 franchise sales, Morrison said on RE/MAX's May 5 earnings call. Rising interest rates have been a drag on Motto franchise sales since Q2 2022, Morrison said, but "we are encouraged by the solid start to 2023 and the interest we see in the marketplace."
Motto's growth during a trying time for the real estate industry has been a bright spot for RE/MAX, which posted a $700,000 first-quarter net loss as revenue and real estate agent count slipped.
On the company's first-quarter earnings call, RE/MAX CEO Steve Joyce singled out momentum in Motto franchise sales and continued growth in wemlo's business with mortgage brokers — as "operational highlights."
More than 70 percent of Motto franchise sales have been to real estate professionals, and their close ties to homebuyers have been a key to their success, Morrison said on the call.
During the first three months of 2023, 93 percent of mortgages originated through the Motto network were purchase loans, compared to 80 percent for the industry as a whole.
"We believe the growth, success and long-term potential of our mortgage business is due to the unique and compelling value proposition Motto and Wemlo each offer," Morrison said. "Ancillary services like mortgage provide real estate entrepreneurs with attractive opportunities to diversify their revenue and earnings, something that is very important during changing market conditions."
In the last month, Motto has announced the opening of four new offices:
Revenue and adjusted earnings, RE/MAX mortgage segment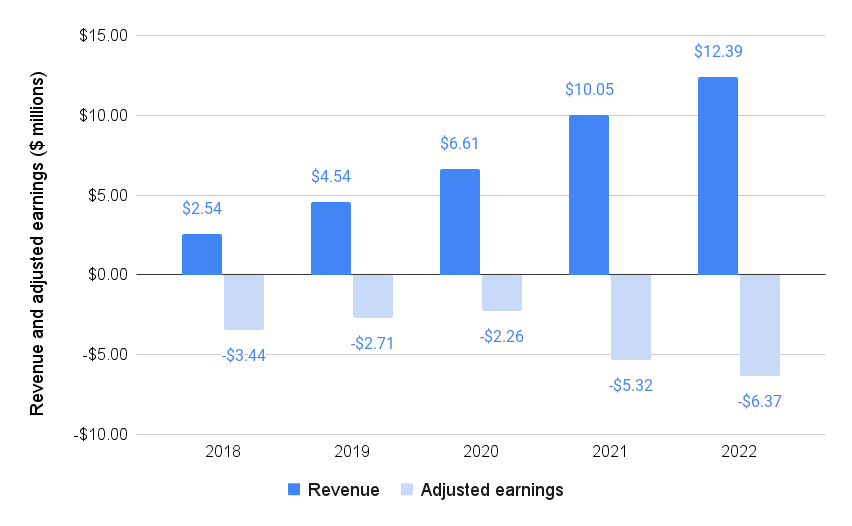 Source: RE/MAX investor presentation
After they've been open for at least a year, RE/MAX says each Motto office generates about the same amount of revenue as a 20-agent real estate brokerage office in a company-owned region.
While RE/MAX's mortgage segment — Motto and wemlo — are producing steady revenue growth, adjusted earnings before interest, taxes, depreciation and amortization (EBITDA) remain in the red.
Adjusted earnings had been trending toward positive territory, but RE/MAX's 2020 acquisition of wemlo and the money it's invested since in the business have contributed to growing adjusted losses for the mortgage segment in 2021 and 2022.
RE/MAX's long-term goal is to generate $100 million in annual revenue from mortgages, with half of that coming from wemlo.
Wemlo serves not only mortgage brokers affiliated with the Motto Mortgage network but any mortgage broker looking to outsource loan processing, providing technology and a pool of qualified processors that lets lenders scale up or down to meet demand. This year wemlo also plans to roll out a loan brokering system to help clients originate loans.
Morrison said that with mortgage brokers handling about 20 percent of the 6 million mortgages originated each year, wemlo's total addressable market is the 1.2 million handled by mortgage brokers. If wemlo can capture just 5 percent of that business, he said — about 60,000 loans a year — it will generate $50 million in annual revenue. That works out to about $830 per loan.
For Motto to hit $50 million a year in revenue, it will need between 900 and 1,000 franchises to be open and paying the full $4,500 per month continuing franchise fee, he said.
"We believe we are well on our way toward achieving that goal and the expansion of our sales team should help us get there even faster," Morrison said.
Although the Motto sales team has experienced some attrition, "The good news is we are trending in the right direction, and we expect to be fully staffed later this summer," Morrison said. "It's an even better story on the Wemlo side. We have successfully doubled the size of Wemlo's sales force and the results have been measurable."
Get Inman's Mortgage Brief Newsletter delivered right to your inbox. A weekly roundup of all the biggest news in the world of mortgages and closings delivered every Wednesday. Click here to subscribe.