Home365 is a technology-supported full-service property management firm that covers all costs of owning and profiting from real estate.
Are you receiving Inman's Agent Edge? Make sure you're subscribed for the latest on real estate technology from Inman's expert Craig Rowe.
Home365 is a tech-forward full-service property management firm for investors and non-institutional landlords.
Platforms: Browser
Ideal for: Agents with investor clients; landlords; investors
Top selling points:
All inclusive, hands-off management
Intuitive property dashboards
In-house staff/coordinators
Stakeholder-specific interfaces
Detailed financial reporting
Top concern:
As with all remote, web-centric providers in the rental/construction/repair sectors, ensuring adoption among local, on-the-ground vendors has potential to upset the efficiencies.
What you should know:
Home365 is a property management company that delivers services through a web-based solution in conjunction with in-house staff and local professionals. The company financially and operationally covers all repairs, equipment purchases, tenant communications and transactions without requiring ownership approval. The intent is to serve those rental property owners who are unable to be hands-on, and seek to make rented real estate a truly passive income source. Owners are provided access to monitor all activities at their will, including extensive financial reports on all units under management. Tenants and service providers are also provided access to submit and respond to needs, respectively, often leveraging video confirmation.
It took me a few minutes into our demo to fully understand Home365's model, which is that it pays for and tackles all operational costs of owning rental property. If the water heater busts, they'll buy, install and document the fix. Same goes for a new garage door opener, oven or unsafe deck railing.
Property owners are given admin experience into which they can review everything going on with their properties, from current rent rolls and unit turns to annual income/expense reports. The clear accounting process is a value in and of itself, even more so when stacked on this 100 percent, truly full-service approach to profiting from a real estate investment, something never as easy as that YouTube guru with the clever pitch wants you to think.
Know too, that the highly detailed fiscal reporting is also valuable when it comes time to sell a property. It's presented outside of a confusing Excel-like experience, instead giving the viewer an unambiguous look into what's being earned and what costs what, even though all they pay for is the management fee.
"Can we see the financials" will be the first, maybe second, question any curious investor is going to ask when considering an investment. The speed and accuracy of the response will mean a lot. I say this because providing that information is not always easy for traditional property managers to expedite, especially those that work in the smaller categories, such as sub-100 unit apartment buildings, duplexes and single-family rentals, exactly where Home365 thrives.
The app is linked directly to clients' bank accounts of choice, into which rent payments are deposited and charges are pulled. Again, it's all about being hands-off.
Tenants submit repair requests via an onboard video upload module, part of the simple, modern UI they're provided when their landlord becomes a Home365 customer. They can also pay their rent, review their lease and documentation, and interact with Home365. They also have an emergency line.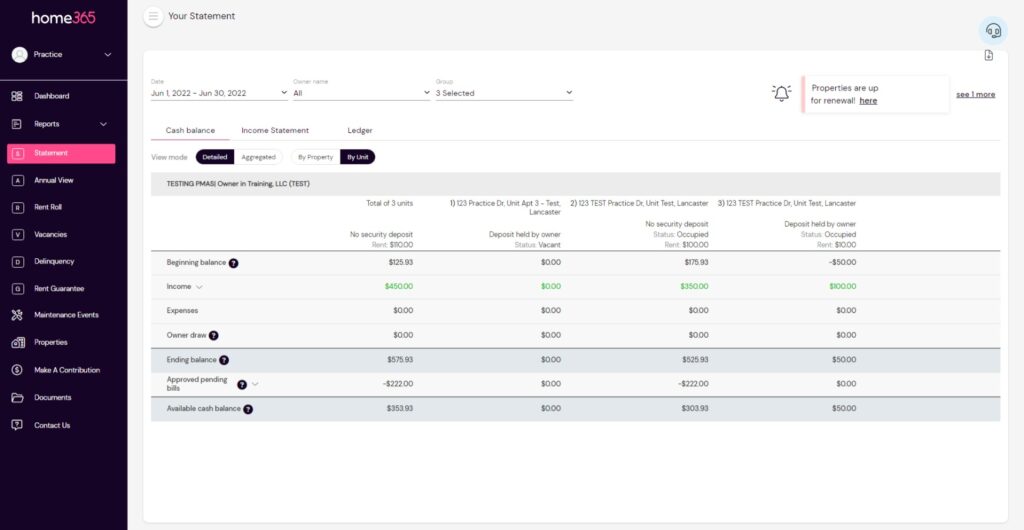 Vendors, too, have their own app for being alerted to repair requests, submitting bids, answering questions and closing out assigned jobs. Home365's in-house team works on local sourcing and onboarding vendors to its system, promising them a good deal of work in exchange for a concerted effort to keep the process running smoothly. I have confidence in the answer I was given about this aspect of the process, but I have an equal amount of confidence in the fact that managing contractors from afar is the company's most challenging directive.
Yet, given that Home365's founder is a real estate investor, it's a challenge with which he's very familiar, so I'm extending the benefit of the doubt that once up and running in a new market, they won't let such speedbumps usurp their level of service.
The company also helps investors analyze potential properties, and offers a "OneRate" rental guarantee, meaning it'll ensure the owner gets their money, even if the renters don't provide it.
It was good to hear that Home365 growing deliberately, not trying to set an unreasonable expansion schedule to meet revenue needs. Home365 is available in multiple Pennsylvania markets, and one city, respectively, in Virginia, Maryland, Nevada, Illinois, New Jersey, Georgia, Michigan and Arizona. It seeks markets with broad submarkets, those more likely to attract stable rents and predictable renter populations.
Home365 knows its audience and knows technology. I went into this demo thinking I'd see another (but good) online rental management solution. I wasn't expecting the software to be backing an out-of-the-box model for ensuring that smaller landlords, reasonably speaking, don't have to be full-time landlords.
This is a company blending human expertise with well-thought-out and targeted problem-solving technology to meet the needs of a large contingent of real estate owners. Well done.
Have a technology product you would like to discuss? Email Craig Rowe
Craig C. Rowe started in commercial real estate at the dawn of the dot-com boom, helping an array of commercial real estate companies fortify their online presence and analyze internal software decisions. He now helps agents with technology decisions and marketing through reviewing software and tech for Inman.